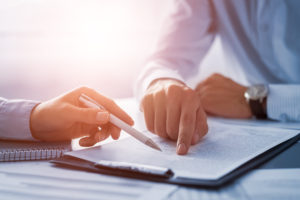 When my parents recently moved from their home of 45 years, you can only imagine how much "stuff" they had accumulated.  My parents are from the generation of saving every document – including monthly bank statements.  When I walked into their bedroom, I saw several beautiful Swedish shelves filled with rows of binders with bank statements going back at least thirty-five years.  Ok, maybe I'm exaggerating a little, but that's how it seemed.  They had a paper trail of every transaction they ever made; this was thanks to my mom, who kept every single receipt organized in binders.  My parents are every divorce attorney's dream because, if they were to divorce (and let me be clear, they are still married), they would have had supporting documents for anything relating to their finances.
The Importance of Well-Documented Finances
I readily admit that my parents' paper trail of documents may be overkill for the average person, but the truth of the matter is that good financial records are important in a divorce proceeding. This is especially true when there are substantial marital assets, businesses, real estate, and possibly non-marital claims to consider. If you have kept good financial records, they can determine whether you win or lose an argument.  The financial documents you may need in a divorce proceeding vary depending on the issues to be addressed. If you are contemplating a divorce, it is important to start gathering financial documents.
Gathering Necessary Documents for Your Situation
If you are in a situation like my parents and have been a married for a long time, spousal maintenance may be a significant issue to address. There are several factors the court considers when determining spousal maintenance. These include the length of the marriage, the work history and income of both parties, the standard of living during the marriage, and the monthly budget for both parties.  Some of these documents are common sense. However, some may not be. Read on to see a list of documents that you may need to help support your claim for or against spousal maintenance.
W-2 Employees
If one or both parties are W-2 employees, the list of documents pertaining to income is relatively simple:
Tax returns for the past three years with supporting documentation
Paystubs for the past six months
Year-end paystubs
Employee benefits
Business Executives
If a spouse is a CEO, executive, or in a professional field such as medical or legal, in addition to the documents listed above, the following documents should be obtained:
Expense reimbursements
Stock option agreements
Employment agreement
Commission agreement
Deferred Compensation
Self-Employed Spouses
If a spouse is self-employed, it would be beneficial to obtain the following documents:
Personal and business tax returns with all supporting documents for the past three to five years
Personal and business bank records for the past two to three years
Expense Reports
Profit/loss statements
Stock option agreements
Incorporation or organizational documents
A schedule of compensation for all owners or officers for the most recent three years
Pension, profit sharing and other retirement benefit plans, programs, employment benefits, rights etc.
Employment and non-compete agreements, compensation agreements, termination contracts for the spouse, employees, partners, independent contracts and shareholders (along with any amendments or modifications)
Loan statements and or applications
Homemakers
If one spouse has not worked for some time, it may be prudent to obtain the following documents:
Resume
Work history
Re-certification requirements
Social Security Benefits Statement
Medical records (if the spouse has not been working for medical reasons)
It should be noted that if a party has been out of the workforce, a vocational assessment may be necessary to determine the spouse's earning capacity.
Illustrating Your Current Standard of Living
The standard of living and monthly budget are two of the several factors considered in determining spousal maintenance.  Sometimes there is a dispute as to what the marital standard of living was and whether each party's monthly budget is reasonable.  It is very helpful to have concrete numbers, which can be supported by the following documents:
Mortgage statements
Credit card statements
Bank statements
Loan statements
Utility statements
Receipts
No one expects couples to be like my parents and keep every financial record for the past twenty-plus years, but obtaining these records for the past two to five years is immensely helpful even if you are only contemplating a divorce.  Understanding your financial circumstances will provide you with less emotional stress and some control if you do decide to move forward with a divorce.
---
With nearly 20 years of high profile experience as a family law attorney, today Beth W. Barbosa focuses her practice on complex cases of high marital assets that draw on her ability to engage authorities with specialized talent and expertise such as financial neutrals, independent business appraisers, real estate authorities and others with specialized knowledge. She does this to both protect and advance her client's interests.